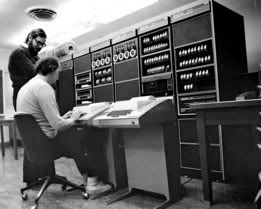 Paul Graham's new essay,
What Business Can Learn from Open Source
is clear and crisp and meaningful. thank you.
I think the most important of the new principles business has to learn is that people work a lot harder on stuff they like...
There's a name for people who work for the love of it: amateurs. The word now has such bad connotations that we forget its etymology, though it's staring us in the face. "Amateur" was originally rather a complimentary word. But the thing to be in the twentieth century was professional, which amateurs, by definition, are not.
Like a lot of people i'm sure, I dictionary.com'ed Amatuer and slapped myself ont he forehead:
"[French, from Latin amator, lover, from amare, to love.]"
There it is - so simple. I think it mgiht be the highest compliment that one could say about a product, a work of art, even a science fair project, "It looks/feels like it was made w love"...Someone cared about X and therefore they across time and space care about me. Those are the kinds of things I want to make.
Here are 4 music videos that are made w love (probably via
antville
):
"Fkcing Happy"
"Ditty Bops" - Adria Petty
"Paris Hilton" - MU
Perhaps my favorite video of all time, seriously