agents, cuban gold, and ropeplay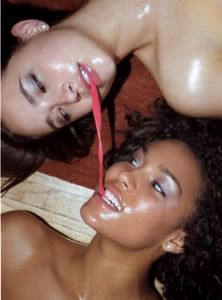 I wish to be cremated. One tenth of my ashes shall be given to my agent, as written in our contract.
- Groucho Marx
Two short flicks try to make talent agents look more like secret agents:
• The long, sloppy but funny
Winterbottem Promo
never quite seems real enough or take it far enough to really fuck with you, but it's still pretty funny in parts, especially towards the end.
•
Shutterbugs - Episode 2
is just brilliant...even transcendent. Wouldn't the world be a better place if all contracts were made with oral ice cream agreements?
My new favorite online music video:
Llegamos Futuro
from Cuban director Eduardo Benchoam.
The other
Films on his site
are great too, especially Palo Monte, a short doc on an afro-cuban religion, Fish Eat Fish, and Bad Dream. All his stuff is edited with an amazing and tight rhythm. Can't wait to see more.
Flashgames
If you're looking for an elegant and completely gayballs way to waste some more time online look at these bonbons from
Ferry Halim
. My favorite is the one with the squirrel or the one with the samurai.
*Pic from Eduardo Benchoam