End of a pantless era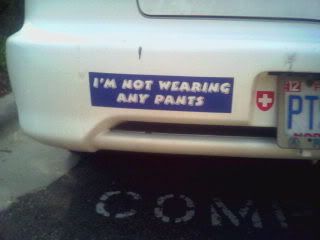 I'm headed up to NYC soon, and that means I will be selling my car. I'm looking forward to being able to walk and take the subway everywhere, as driving is the number one aggrivator for my knee. Integra #2 has been great to me, but I can't wait to turn over the keys. This closes a long and fruitful chapter in my life, as I will no longer own a vehicle on which to put an "I'm not wearing any pants" bumper sticker.
I first had them made in 1997 after my spiritual advisor came up with the idea, and since then I have given out over 200 stickers. They now can be found across the country on the cars and trucks of friends, friend's parents, zany businesses, a few 18-wheelers who probably take it literally, and many complete strangers. I remember the first time I saw a bumber sticker on a strange car in the Cafe Driade parking lot. I walked in expecting to know someone, but I didn't recognize a single face. Some person I didn't know had one of the stickers. It was an amazing feeling.
Over the years I've gotten countless honks and stares and laughing points, two newspaper mentions that I know of, a couple crazy people knocking on my window at stoplights (I always have some extras in my car to give out), one really really awkward conversation with an older woman while I was changing into shorts before soccer practice. My favorite story comes from my very own cousin who was worried about what people would think when he went to pick up his daughter at elementary school. So, he glued magnets to the back of the bumper sticker so that it could quickly be removed and replaced at a more socially appropriate time.
I still have a dream that one day in the future I'll be in Minnesota in the middle of winter and I'll pull my car into a filling station. As my arthritic fingers are struggling to pump the $90 a gallon gas, I will look over and see an old gree pickup with snow on the bumper. Hidden behind the snow I'll see a stragnley familiar blue sticker peeking out. I'll drop the pump and hobble over to the pickup. My liverspotted hands frantically brush away the snow to reveal an "I'm not wearing any pants" bumper sticker, and I'll fall dead on the spot, a big smile on my face.
To all the brave and glorious people out there who have risked excommunication by putting a bumper sticker on your vehicle, I thank you and I love you. It means a lot to me and hopefully to the people behind you in traffic.
I'll probably be making another batch at some point, but in a different color. I still have a few of the original batch left if anyone out there wants one.