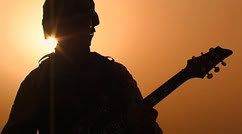 Check out Apple's behind the scenes look at
Gunner Palace
with filmmaker
Michael Tucker
for some fascinating background stories and apple realted tech talk:
"In the heat of it all, he says, soldiers kept in touch with friends and family using modern technology — unprecedented in wartime, but often making the separation feel even greater. In a diary entry from September, 2003, Tucker wrote, "Nothing is more bizarre than watching a soldier argue with his wife about which bills to pay as a firefight plays in the distance. The irony is, all the technology in the world can't bring them home. You feel close, but in reality, you are further away than you thought."

It was this constant juxtaposition of real and surreal, along with the soldiers' attempt to cope and survive in the face of growing hostility, that made Tucker realize he had to tell their story to the world. "For the soldiers, it's really validating that someone tried to capture what they're going through," says Tucker. "That's probably what I'm most proud of — that to them it feels true.""
Also, the
Hitchhiker's trailer
we've all been dreaming...complete with lots of meta-trailer references and Adam's-esqe humor.